Thank you for contacting L. A. Barnaby, a representative will contact you shortly.
Service Areas
The L. A. Barnaby Experience
High-Quality Siding Services in Monroe, CT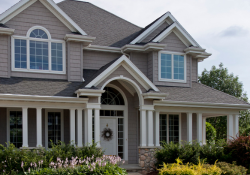 When it comes to protecting your home from the harsh weather in Monroe, CT, high-quality siding is a must-have. At L.A. Barnaby and Sons, we offer top-notch siding services that will keep your home safe and secure, no matter what the weather brings. With over 75 years of experience, we have the expertise and knowledge to handle any siding project, from installation to repair.
Choose the Best Siding for Your Home in Monroe, CT
With so many siding options available, it can be difficult to know which one is the best for your home. That's where our team comes in. We will work with you to choose the right siding material for your home's style, budget, and needs. Whether you're looking for vinyl, fiber cement, or wood siding, we have the expertise to install it properly.
Protect Your Home from the Elements with High-Quality Siding
Monroe, CT, is known for its unpredictable weather, including harsh winters and summer storms. That's why it's important to have high-quality siding that can withstand whatever nature throws your way. Our siding is designed to protect your home from moisture, wind, and other elements that can cause damage.
Experienced and Reliable Siding Professionals in Monroe, CT
At L.A. Barnaby and Sons, we pride ourselves on providing the best possible customer service and satisfaction. Our team of experienced and reliable siding professionals is dedicated to delivering outstanding workmanship and excellent communication throughout the entire siding process. We use only the highest quality materials and techniques to ensure that your siding project is done right the first time.

Don't just take our word for it, head on over to Google reviews to see what people are saying about us.
Competitive Pricing and Financing Options
We believe that high-quality siding services should be affordable for everyone. That's why we offer competitive pricing and flexible financing options to make our services accessible to homeowners in Monroe, CT. We provide transparent and honest pricing, so you know exactly what to expect before we start your siding project.
If you're looking for top-notch siding services in Monroe, CT, look no further than L.A. Barnaby and Sons. Contact us today to schedule a free consultation and estimate for your siding project. We look forward to helping you enhance the beauty, value, and protection of your home with new siding that can withstand the weather in Monroe, CT.
Recommended Siding Brands:
Contact Us Today!
Thank you for contacting L. A. Barnaby, a representative will contact you shortly.